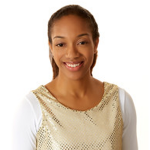 Christina Clark is the owner and designer of Arise Dancewear.  The concept for this business came from a lack of suitable worship attire for dance minister's needs. Using her skills in sewing, education in textiles and business plus first-hand knowledge of what dance ministers need, Arise Dancewear exists to serve dance ministers with worship garments and tools to enable their ministry.
The name Arise first came to Christina while developing the choreography to the song Arise by singer William McDowell. Later that year, when the business began to take shape, the name returned to inspire the direction of the company and future offerings. Arise has several meanings, it is the act of standing up, coming forth and lifting up – all significant truths in Christianity and dance.
Today, Christina is an active minister of praise dance, mime and worship tools. She resides in Raleigh, NC with her husband Antoine and two sons Mason (6) and Leo (3). She is a member of Raleigh First Assembly of God Church where she is the Worship Dance Fine Arts Leader in the Children's Church
Looking back it amazes her how God's hand has been on her to find this special calling. First, by accepting Christ into her life, then by discovering dance ministry and developing all the skills needed to sew garments and handcraft worship tools. Christina believes with God there are no limits and the more we trust Him with our gifts the more He will allow us to use them for His glory.